Man faces attempted murder and robbery charge in Queensferry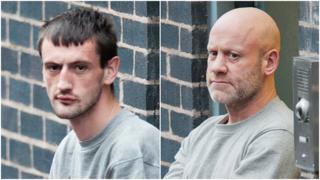 Two men have been charged with robbery and one faces an additional attempted murder charge in connection with an incident at a Flintshire shop.
The 58-year-old shop keeper had to undergo surgery for knife injuries to his throat following an incident at Costcutters in Queensferry on Thursday.
Matthew Whelan, 29, of Mancot, was charged with attempted murder and robbery at the court hearing in Mold.
Leslie Baines, 47, of Connah's Quay, was also charged with robbery.
They were remanded in custody and are due to appear for a plea hearing at Mold Crown Court on 6 January.