Wrexham 10-storey Bodhyfryd police station for sale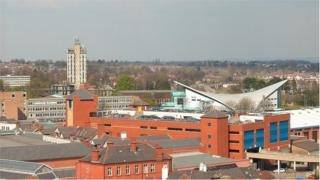 A 10-storey Wrexham police station built in the 1970s has been put up for sale.
The concrete tower, plus its surrounding buildings and car parks, will be empty by 2018 and the site is due for demolition.
A new police station is being developed in Wrexham's library building.
The Bodhyfryd site, expected to sell for about £1.5m, is expected to be turned into into homes, retail outlets and a hotel.
North Wales Police, which is inviting offers before 30 November, is also constructing a divisional headquarters in Llay.