Row over St Asaph 'Livingstone' development name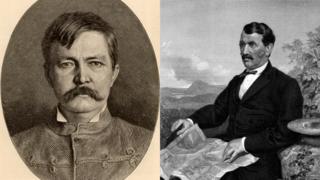 Two men involved in one of the most famous meetings in history are at the centre of a naming dispute in St Asaph.
Welsh-American explorer Henry Morton Stanley supposedly greeted long-lost Scottish missionary David Livingstone with the words: "Dr Livingstone, I presume" 145 years ago next week.
Stanley is remembered with statues and place names throughout his home county of Denbighshire.
However, his legacy is tainted by allegations of cruelty and racism.
Until its closure in 2012, St Asaph's hospital bore his name, because as a child Stanley spent six years there when it was the city's workhouse.
However, Pure Residential - the company now tasked with redeveloping the Grade II-listed building into apartments - added to the local controversy with their plans to name the site "Livingstone Place".
The local branch of women's group Merched y Wawr is calling on Denbighshire council to intervene.
A spokesperson said: "We believe that the name 'Livingstone' is completely inappropriate.
"What connection does Livingstone have with this city apart from being found in deepest Africa by HM Stanley?"
Dr Livingstone was ridiculed amongst his contemporaries for his supposed failure to find a navigable river route into the continent's interior, as well as for the relatively small numbers of Africans he managed to convert to Christianity.
However, history has viewed him more favourably, with supporters now drawing attention to his tireless campaigning against slavery.
Hero
In contrast, when Stanley was hired by The New York Herald to find the missing Livingstone, he returned to London a hero.
Yet closer study of the treatment he meted out to the Africans under his charge have called this view into question.
Some argue that it is impossible to judge Stanley by modern standards.
He was known to have lied or exaggerated about virtually every aspect of his life, from the number of men he took on his mission, to denying he'd been born in Wales, and possibly even the line: "Dr Livingstone, I presume".
This is far from the first controversy surrounding Stanley's legacy in Wales.
In 2011 more than 50 public figures including travel writer Jan Morris and poet Benjamin Zephaniah signed a letter of protest against the erection of a life-size bronze statue of Stanley in Denbigh.
Merched y Wawr said their opposition to the use of Livingstone's name for the development does not necessarily mean a vote in favour of Stanley either.
They have instead suggested a Welsh name for the project, such as Bryn Tirion.
Pure Residential has been asked to comment.