Arson blamed for 1,200 hay bales fire at Marford, Wrexham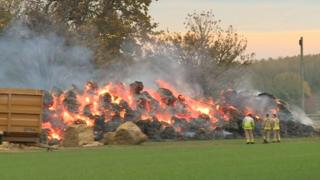 A fire in which 1,200 hay bales were left to burn in Wrexham was deliberately set, fire officers have said.
The blaze in Marford began at lunchtime Wednesday and was put out by 07:45 BST on Thursday.
About 600 tonnes of hay was involved, with Hoseley Lane shut as smoke affected visibility for motorists.
North Wales Fire and Rescue Service carried out an investigation and said it thought it was deliberately set.