McColl's store in Denbigh targeted by masked armed robbers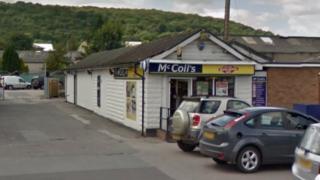 A shop assistant has been left shaken following an armed robbery in Denbighshire.
Two masked men carrying hammers and a knife entered McColl's convenience store on Rhyl Road, Denbigh, at about 20:40 BST on Tuesday.
The shop assistant was alone at the time and the men made off with cash from the till.
Det Sgt Sarah Jones said: "Fortunately the shop assistant was not injured, but the incident has clearly shaken him."
One of the men was described as being between 18-25 years-old and the other in his mid twenties to early 30s. They were both dressed in black and wore balaclavas.