Flintshire councillors call for road and rail investment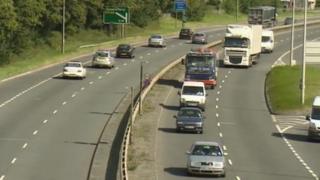 Roads and railways in Flintshire need investment to boost prosperity and create jobs, a meeting has heard.
Councillors have endorsed a "growth vision" for north Wales which is seeking UK and Welsh Government money to create at least 120,000 jobs for the region by 2035.
The plans have already been backed by the region's six council leaders and chief executives.
On Wednesday, county councillors set out the need for travel improvements.
Flintshire council official Clare Budden told members at County Hall, Mold, that infrastructure development had "suffered from little investment in recent years".
Llanfyndd councillor Hilary Isherwood said some communities were in "no man's land" due to poor transport links, while Greenfield councillor Rosetta Dolphin also sought assurances that places away from core areas like Deeside did not miss out.
The plans aim to boost the value of the local economy from £12.8bn in 2015 to £20bn by 2035.
They are designed to link in with the Northern Powerhouse, which aims to encourage economic growth outside of London.
Further talks with government officials are due to take place after Chancellor Philip Hammond delivers his first Autumn Statement on 23 November.