Gordon Anglesea abuse trial: Ex-police chief 'a good man'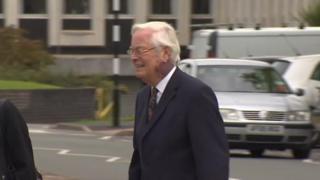 A former police officer accused of historical sex offences is "a good man", a court has heard.
Ex-offender Mark Taylor told Mold Crown Court Gordon Anglesea had helped him turn his life around as a teenager.
Mr Anglesea, 79, of Old Colwyn, Conwy, denies abusing two boys in the 1980s.
Mr Taylor, a builder, said he remained in touch with the former superintendent until about 1994, calling him at work to let him know how he was doing or asking advice about personal problems.
The court heard how Mr Taylor had been in local authority care since he was three years old.
He had been a resident at the Bryn Alyn children's home in Wrexham since he was 10 and remained there until he was 18.
Mr Taylor said he had been ordered by the juvenile courts to attend a Home Office attendance centre run by Mr Anglesea twice, but found the discipline and exercise so beneficial he voluntarily attended for an extra 12 months.
'Not aggressive or violent'
Tanya Griffiths QC, defending, asked Mr Taylor about defendant's attitude towards the boys at the centre.
"It was good, he was pleasant, he was not aggressive or violent, always polite," he said.
"I was a handful. I used to push the staff and give them loads. I used to push them to the limits because I thought I knew best. I had an attitude which was totally wrong."
The prosecution alleges that Mr Anglesea abused one teenage boy in the showers at the centre.
Asked if he had seen any physical abuse by staff, Mr Taylor replied: "Never."
He said he had not seen Mr Anglesea around the changing rooms or watching boys in the showers.
Prosecutor Eleanor Laws said: "In two years at the attendance centre you never saw Gordon Anglesea at the shower room? Are you telling the truth?"
Mr Taylor replied: "Yes."
The trial continues on Monday.