Gordon Anglesea: Exposed as a paedophile after 25 years of denials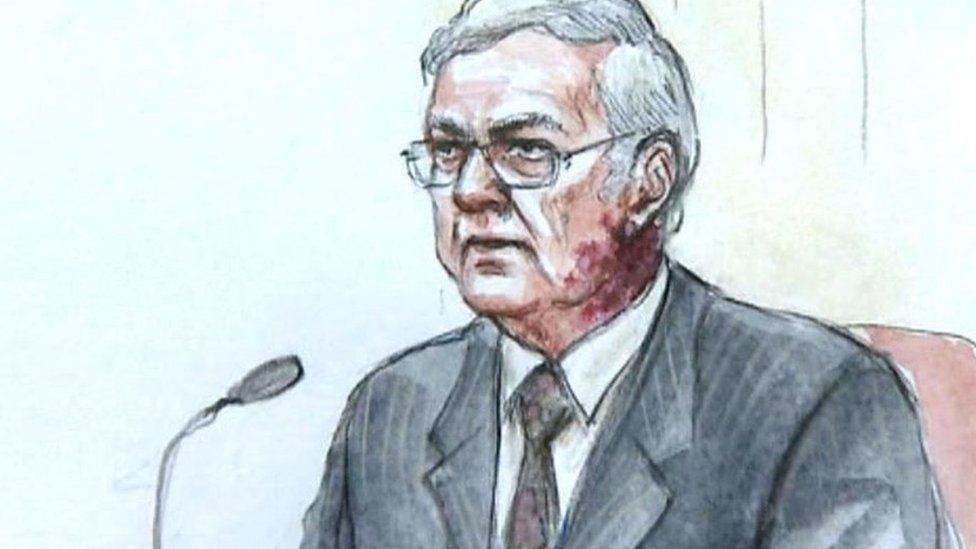 For 25 years, allegations of sexual abuse have dogged Gordon Anglesea. For 25 years, he has been steadfast in his denials. Now - after a jury found the former police superintendent guilty of historical sex offences against two teenage boys - the truth is finally out.
"I deny any sexual assault or sexually inappropriate behaviour."
That is what Gordon Anglesea told police ahead of his trial.
It was a lie - a lie he had been peddling for many years.
Allegations about his involvement in child abuse first surfaced in November 1991, when he was asked by a journalist about his connections to the Bryn Estyn boys' home in Wrexham - where we now know children were abused.
The following day, the Independent on Sunday published an article in which former residents claimed Anglesea was a regular visitor to the home.
"New Child Abuse Scandal", the headline ran. It also raised questions about why Anglesea had suddenly retired from the police in April 1991.
Over the next two years, claims about him emerged in The Observer, Private Eye and on HTV Wales.
In 1994, Anglesea sued all four media organisations for libel.
They claimed their stories about Anglesea were true and called witnesses who testified they had been abused by him at Bryn Estyn.
It was all lies, Anglesea said and on that occasion, the jury agreed with him.
He emerged from court £375,000 richer and with his reputation - for now, at least - intact.
"I have been vindicated," he said. "My reputation is restored. The money is the immaterial part of all of this. I wanted that vindication and that clearance and I have got it. "
During the libel trial, Anglesea denied abusing anyone. Now, we know that was not true.
Clare Hudson, the former head of BBC Wales productions, who was part of the HTV team of journalists sued by Anglesea 22 years ago, said she was "very happy" with the latest verdict.
"We now know that the man is a paedophile but it's also a bittersweet experience.
"It has taken nearly a quarter of a century for the truth to come out and meanwhile, individuals' lives have been deeply affected and their families' live have been affected.
"The libel case itself was a harrowing experience because we had three people who were describing the most horrendous crimes that had been committed against them while they were in care.
"We were asking them to go through this immense ordeal and they went through it because they hoped, as we did, that they would be believed."
One of those witnesses was Steve Messham, who in a case of mistaken identity, was later to wrongly name the Conservative peer Lord McAlpine as an abuser.
He was also the first to identify a Wrexham paedophile ring, members of which were jailed last year.
Mr Messham stands by his claim Anglesea abused him at Bryn Estyn "a million per cent", a claim which Anglesea denied.
"I identified him. I described him. I've had dealings with him. I described him when he used to come to the [Bryn Estyn] home.
"It's very concerning that it's taken so long to get where we are today. And it hasn't gone far enough."
Mr Messham said he is "devastated" that these allegations have never been brought to a criminal court.
"I am not prepared to let that drop. I am going to pursue Gordon Anglesea and many others of my abusers till the day I die."
Gordon Anglesea: A Timeline
1967 - Anglesea starts work as a police officer in Cheshire. He later resigned following a marriage breakdown and joined Flintshire constabulary.
1976 - Promoted to inspector in Wrexham and in 1978, becomes responsible for the Bromfield area which included the Bryn Estyn children's home
1978 - Sets up a Home Office attendance centre in Wrexham
1988 - Becomes a superintendent in Colwyn Bay
1991 - Retires suddenly after 34 years' service. Later that year the Independent On Sunday runs an article about Anglesea's connections with Bryn Estyn. Similar stories follow in the Observer, Private Eye and on HTV Wales.
1994 - Sues the four media organisations for libel and is awarded £375,000 in damages
1997 - Answers questions about allegations of sexual abuse before the north Wales child abuse tribunal.
2000 - The Waterhouse report says the allegations about Anglesea had not been "proved to our satisfaction"
2014 - Arrested and bailed by officers from Operation Pallial, an investigation into child abuse in north Wales care homes
2015 - Charged with historical sex offences
Although he was "vindicated" by the libel trial, the matter for Anglesea was far from closed.
Three years later claims of abuse were looked at again by Sir Ronald Waterhouse's inquiry into child abuse in north Wales.
Gordon Anglesea gave evidence, as did his accusers.
It heard about visits he made to Bryn Estyn and claims he was seen with the home's head Peter Howarth, who was jailed in 1994 for child abuse.
The resultant Waterhouse report, published in 2000, had an entire chapter about the Anglesea case.
It said: "We have been left with a feeling of considerable disquiet about Anglesea's repeated denials of any recollection of Peter Howarth."
But it concluded: "Having considered all this evidence with very great care we are unable to find that the allegations of sexual abuse made against Gordon Anglesea have been proved to our satisfaction."
In 2012, in the wake of the Jimmy Savile scandal and fresh allegations about historical abuse in north Wales, Operation Pallial was launched.
It was to prove the beginning of the end for Anglesea. His name was repeatedly given to the investigation, led by the National Crime Agency.
Anglesea, now in his late 70s, was arrested in 2013 and charged in 2015. The case finally came to court in September 2016.
The evidence against him was damning - one victim described how Anglesea had indecently assaulted him in the changing rooms of an attendance centre in Wrexham.
He was "evil", he said. "He wrecked my life."
The second victim described him as a "nasty, horrible piece of work" who indecently assaulted him, called him "scum" and threatened to send him far away, where he would never see his parents again.
For 25 years Anglesea got away with his crimes, while these men led troubled lives, in and out of prison and mental institutions, blighted by the nightmare of what this predatory paedophile did to them.
They were repeatedly branded liars by their attacker, part of a "conspiracy to get compensation".
Now at last, it is they who are vindicated.