Wrexham council five-year strategy to boost Welsh speakers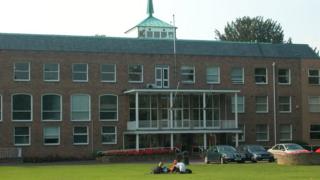 A five-year strategy to promote the use of the Welsh language across Wrexham has been approved by councillors.
It aims to bring the council in line with standards set by Welsh Language Commissioner Meri Huws.
Language campaigners previously criticised the council for saying it would be too costly to implement them.
But the authority said most of them have now been put in place after it was served with a compliance notice.
The standards, which came into force in March 2016, set out which services public bodies are required to provide in Welsh.
These include the rights of employees to speak and use Welsh at work, providing Welsh language versions of HR policies and giving the language priority on bilingual signs.
The council's executive meeting on Tuesday discussed implementing the plans which the authority said would help increase the number of Welsh speakers across the county.
In a report, it said use of the Welsh language in Wrexham "has been in decline for some years" - dropping from 14.6% of the population (18,102 people) speaking it in 2001 to to 12.9% (16,659) in 2011.
The local authority said it wanted to see the figures increase to 2001 levels by the time the next census is carried out in 2021.
The strategy includes ensuring more young people are learning Welsh, that shops and businesses increase their use of Welsh and that free provisions for learning the language are offered.
The report also said the council spends about £103,000 on translation, Welsh language training, staffing and hiring in a translator for full council meetings - but an extra £250,000 has been made available to meet the anticipated costs of implementing the language standards.
Councillor Huw Jones, lead member for Welsh language, said in the report: "The council is ready to rise to the challenge and is ambitious in its desire to achieve the outcomes as outlined in this strategy."