GHA Coaches: Welsh Government to 'cover some council costs'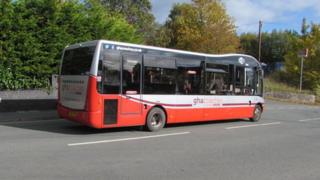 The Welsh Government will cover some local authority costs after the collapse of a Wrexham bus company.
Services in Denbighshire, Flintshire and Wrexham were hit when Ruabon-based GHA Coaches went into administration in July.
Denbighshire's lead member for the public realm, David Smith, told a cabinet meeting the total amount is not clear.
The Welsh Government said details would be announced shortly.
Mr Smith said the money will cover some of the costs of maintaining public transport routes only.
It will not be available to cover school transport, which is a statutory duty.
Denbighshire will now urge the Welsh Government to provide "further assistance" for school transport, because this involves the biggest cost.
A Welsh Government spokeswoman said Economy Cabinet Secretary Ken Skates, was "minded to support councils affected by the collapse of GHA Coaches" so they can restore local bus services.
"Full details of that support is currently being agreed and will be announced shortly," she added.
GHA, which operated scores of services throughout north east Wales and Cheshire, ceased trading on 13 July, with the loss of 320 jobs.
The company owed £5.2m when it folded.
Denbighshire council officers already had contingency plans in place to cover school transport in the event of the firm's collapse.
The cost of implementing those plans will be £175,000 to the authority in 2016/17, rising to £275,000 in 2017/18.
At a public inquiry last week, GHA Coaches directors Gareth and Arwyn Lloyd Davies were told by the Transport Commissioner Nick Jones they will be disqualified from holding public transport operator licences due to serious safety issues.
Mr Jones described aspects of the company's operation as "shambolic".
The company's assets are in the process of being sold.