Saltney toddler dies after fireplace fell on top of him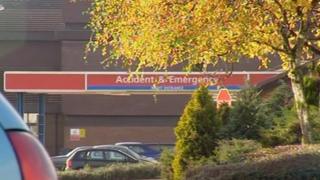 A toddler has died after a fireplace fell on top of him.
Two-year-old Malaki Hughes died following an incident at a house in Saltney, Flintshire, on Monday morning.
Emergency services were sent to the home at about 08:40 BST. He was taken to the Countess of Chester Hospital but he could not be saved.
Saltney town councillor Shelly Streeter described him as a "sweet" and "lovely" boy.
Ms Streeter said: "I was out delivering news letters last night and it was what was on everyone's lips. It's affected everybody. It's shocking and heartbreaking.
"The hearts of the community just go out to the family, and people are very keen to try and help them."
Ms Streeter said she had met the boy's mother occasionally, adding: "I just feel terrible for her."
She added Malaki was "lovely, absolutely magical".
An online fundraising page set up to raise money for his family has already attracted hundreds of pounds in donations.