Pokemon Go banned at Airbus factory in Broughton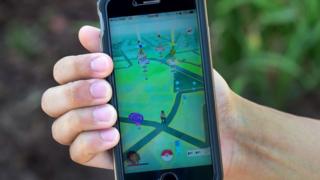 Security and safety concerns have led to 6,000 Airbus employees being banned from playing augmented reality game Pokemon Go at work.
An email was sent to staff at the wing-making factory in Broughton, Flintshire, after a worker played it.
The gaming app allows users walking around the real world to catch virtual Pokemon animals using a map on their phone.
A spokesman said confidentiality meant camera phones were banned at the site.
He added: "It's a serious point - working factories are not places where people should be distracted by playing games.
"They can be hazardous places if not treated with respect."
Last month, it was reported fans of the game had been trying to enter the Airbus plant at Filton, Bristol, which is featured as a place where players can battle or train Pokemon.