Kavos quad bike crash teen Harri Jones flown back to UK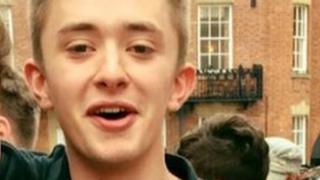 A teenager who was left in a coma after a quad bike crash on the Greek island of Corfu has been flown home.
Harri Jones, 18, from Wrexham, is at a hospital in Stoke-on-Trent after money was raised to fly him to the UK. He is said to be responding to questions and has moved his arms and legs.
He suffered a fractured skull and cheekbone, and lost sight in one eye following last month's accident.
It was on the first night of his first holiday abroad with friends in Kavos.