Llangollen Wild Pheasant hotel in administration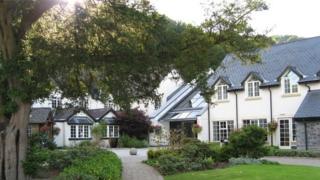 A Denbighshire hotel has closed down without notice, with the loss of 30 jobs and the cancellation of all bookings, including wedding receptions.
The Wild Pheasant, Llangollen, has been put in the hands of administrators "due to health and safety concerns".
Administrators Duff and Phelps are now looking to sell the 46-bedroom property, owned by O&S Hotels Ltd.
One couple who paid £4,900 to hold their wedding at the hotel next weekend are trying to find a new venue.
Kirsty Aldridge, 44, and Michael Thompson, 37, from Hull, had booked the hotel with 60 guests staying over for their wedding and reception.
They have visited the area for holidays previously and got engaged at the hotel.
Ms Aldridge's daughter, Kayleigh Scott, said: "It was a special place for them."
They are now hoping to recover their money.
The hotel's Elegance Spa is a separate enterprise and is continuing to operate but the administrators said they cannot guarantee any future bookings. It is also owned by O&S Hotels Ltd.
The Wild Pheasant was formerly owned by local businesswoman Stephanie Booth but it went into administration in 2011, reopening the following year.
Joint administrator Steve Muncaster said: "Anyone with an existing booking should get in touch with us and those that have paid in advance for bookings on credit or debit card should contact their provider for potential refunds.
"We're conscious that in the busy holiday period there will be many disappointed to hear about the closure of the hotel."