Stranded Wrexham bus passengers hope after GHA collapse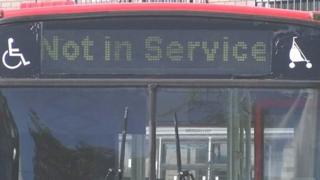 Passengers left stranded in parts of Wrexham following the collapse of a bus firm have been told they could have a service by the end of August.
Wrexham council still has eight routes to fill after Ruabon-based GHA Coaches suddenly went into administration in July with the loss of 320 jobs.
The routes are out to tender and the council is willing to subsidise them.
GHA ran public and school services across Wrexham, Flintshire, Denbighshire and into Cheshire.
Denbighshire still has five services suspended and four withdrawn while Flintshire has all routes accounted for.
"We recognise that there are still some areas without a bus service and other operators have been unable to pick up these routes," said David Bithell, Wrexham's lead member for transport.
"By going out to tender and subsidising the cost we are hopeful that services will soon return to those areas.
"The loss of GHA services was a huge blow to the transport services across Wrexham and the region and it will be felt for a very long time."
However, he warned some other services may not be replaced in areas where other routes were already operating.
The Welsh Government has been accused of not doing enough to help despite previously knowing GHA was in trouble.
North Wales Plaid Cymru AM Llyr Gruffyd said: "They clearly knew back in May the company was in big trouble and while they were working on a rescue package, there's no reason at all they shouldn't have been working on a plan B.
"For the local authorities to be informed at 4pm on the day the company went into administration I think is unacceptable, leaving 350 members of staff in the lurch as well as the thousands of customers across north east Wales.
"The Welsh Government knew this was coming and of course, they weren't ready for it."
Councillors from Wrexham, Denbighshire and Flintshire met with the Welsh Government's Economy and Infrastructure Secretary Ken Skates on Tuesday.
"Local authorities across Wales are required to have robust plans in place to secure key bus services in their areas should operators withdraw services or cease operations," said Mr Skates, who is also the AM for Clwyd South, which covers affected areas.
"Through Business Wales, we had been working with GHA and local authorities in north east Wales for some time to support the company through these difficulties and that is why those local authorities have been able to act so quickly to put in place arrangements with alternative operators on the vast majority of former GHA routes.
"We will continue to work collaboratively, including with the administrators, to minimise the effects of the firm entering administration."
In a joint statement after the meeting, officials said they were committed to "ensure services are maintained as far as possible" and that priority would be given to put school transport in place for September.
"While the replacement service will not be exactly the same, it is anticipated that a reasonable level of service will be provided within the available resources," it added.