Rare bittern set to make a comeback on Anglesey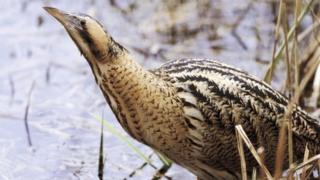 A conservation charity is hoping a rare bird will make a comeback on Anglesey.
The bittern, a member of the heron family, is incredibly rare in the UK and last bred in Wales in 1984.
But there has been a big effort over the last 20 years to create more nesting habitats, including those at Valley Wetlands near Holyhead.
RSPB staff and volunteers there are "pretty confident" the birds have bred and look forward to chicks in the autumn.
'Loud booming call'
RSPB reserve manager Julian Hughes told BBC Radio Wales most people will never be lucky enough to see a bittern, despite them being "relatively large birds."
"They live in reed beds and the only time you'll know they're there is because they make a loud booming call," he said.
"But they've become very rare in the UK. By 1997 we only had 11 booming males left in the whole of the UK and none of them were in Wales."
Mr Hughes said efforts to create more suitable habitats had resulted in "more bitterns now than we've probably had for the last 100 years".
He said he was "pretty confident" they had bred at Valley Wetlands, but would only know if chicks hatch in the autumn.
"2016 could be a landmark year for bitterns," he added.