Kavos quad bike crash: Delay in waking Harri Jones from coma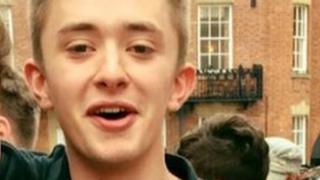 Doctors have delayed waking a Wrexham holidaymaker from a coma following a quad bike crash on the Greek island of Corfu because he has a high temperature, friends have said.
Harri Jones, 18, remains in a comfortable and stable condition.
He suffered a fractured skull and cheekbone, and lost sight in one eye following last Wednesday's accident.
It happened in Kavos on the first night of his first holiday abroad with friends.