Service for Wales' Missioner in residence Mark Yaconelli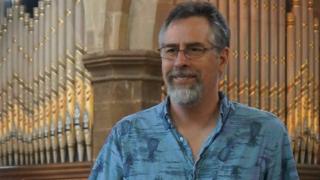 A service to say goodbye to Wales' first missioner in residence has taken place in Wrexham.
Youth and community activist Mark Yaconelli held a six-month residency in the Diocese of St Asaph to help churches reconnect with their local communities.
He ran youth worker training, storytelling workshops and spiritual retreats.
The service took place at St Giles' Church on Sunday.
The Bishop of St Asaph, Rt Rev Gregory Cameron, said: "Our missioner in residence has shared with us some profound truths about the role and purpose of church in our society.
"We've been challenged to consider how we can better demonstrate and communicate the life-enhancing message of the Christian faith."