Rhyl fan zone open for Euro 2016 and Wimbledon finals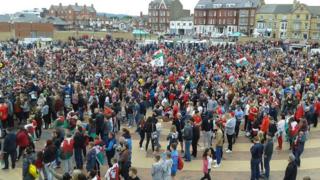 A fan zone in a Denbighshire town will open on Sunday so people can watch the Euro 2016 and Wimbledon men's finals.
Rhyl was one of several towns across Wales to set up a fan zone for Wednesday's semi-final match.
Following demand from fans, it will be open from 13:00 BST for the Wimbledon final before the Euro 2016 final between France and Portugal at 20:00.
More than 7,500 people were at the fan zone at Rhyl's Events Arena for Wales' 2-0 defeat by Portugal.