Mametz Wood: Parade with 4,000 handmade poppies marks battle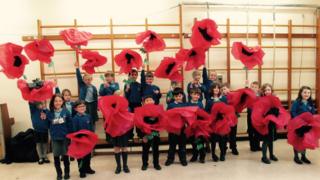 A parade with 4,000 handmade poppies has taken place in a Denbighshire town as part of World War One commemorations.
Schoolchildren from across Ruthin helped to make the poppies to mark the centenary of the battle of Mametz Wood.
It is part of events being held in the town, which have been organised by Ruthin Community Group.
Its events organiser, Ron Bell, said the commemorations had been "designed to bring all generations together".
The 38th (Welsh) Division attacked Mametz Wood between 7 and 14 July 1916, with more than 4,000 of them killed or injured.
Mr Bell said: "The aim is to help people not only remember World War One but to learn about the sacrifice their predecessors made for their freedoms."
The commemorations have been funded by the Heritage Lottery World War One programme and the Big Lottery Awards for All.