Mametz Wood: Flintshire families devastated by war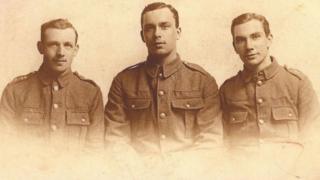 North Wales soldiers played a crucial part in the battle of Mametz Wood. Here, BBC Wales News tells the stories of three Flintshire men who never made it home.
A hundred years ago this week, the course of history for countless Welsh families was changed forever on a battlefield in northern France.
About 4,000 men were killed or wounded in a few days of fierce fighting - all of them someone's son, many of them someone's husband or sweetheart.
With them died their future families - their young lives would never be lived, their children never born.
---
When war broke out in 1914, George and May Phillips were running a bakery in Horseman's Green, a small village near Hanmer, now in Wrexham but at the time, part of Flintshire.
They had four sons - Sydney, Fred, Arthur and Norman - and a daughter, Elsie.
Arthur was the first Phillips boy to answer Kitchener's call, joining the 16th Battalion of the Royal Welsh Fusiliers in November 1914, aged 19.
His older brothers Fred, 21, and Syd, 27, were to follow suit - same battalion, same regiment - exactly two months later on 23 January 1915.
The very next day Fred and Syd were sent to Llandudno for training. Arthur was already there and the three brothers had their photo taken at a studio in the town.
Young, handsome and blissfully ignorant of what lay ahead, the men cut fine figures in their new uniforms.
Syd had been a gardener before joining up; Fred and Arthur worked in the family bakery - three young men living everyday lives in an everyday rural village.
"It's very easy for us to look back now and say, 'Oh poor, deluded chaps, they didn't have any idea what they were getting into'," said military historian Taff Gillingham.
"The truth is, this was a great adventure for many young men.
"If you think about it, most working men, perhaps coalminers or farm workers, would have left school at 12 or 13, they would work six-day weeks, with poor pay and very few holidays. Life could be very hard for them.
"Big families were the norm, so often conditions at home would be pretty cramped and suddenly, with the outbreak of war, there was this opportunity to travel, to get away from it all and there would have been a huge amount of pride at being part of something."
Syd, Fred and Arthur's great adventure began on 3 December 1915, when they entered France as part of 113 Brigade of the 38th (Welsh) Division - novice soldiers with just a few months of basic training under their belts.
Just over seven months later, two of them would be dead; the other back in Britain, suffering from "neurasthenia" - more commonly known as shell shock - never to fully recover.
"Fred and Arthur were killed on the same day at Mametz Wood," said Alison Parry, whose grandfather was the men's youngest brother Norman.
"We don't really know the details. There are no graves for them, no one knows exactly where they are buried but their names are on the Memorial of the Missing at Thiepval."
At dawn on 10 July 1916, the brothers' battalion led an attack on the wood, suffering heavy casualties as its men crossed hundreds of yards of open ground in the face of furious machine gun and rifle fire.
"It's a cornfield," said Mr Gillingham. "I've walked around it myself plenty of times and there is no cover at all."
"They had to cross that ground first, totally exposed, before they got to the woods, then they had to fight their way through the wood to clear the Germans out.
"It was a tall order for experienced troops and a much bigger problem for men who really didn't have that experience."
The wood was taken after two days of brutal fighting, but two of the Phillips brothers did not live to enjoy the victory.
"The story goes that our family only heard they had died from a teacher at their old school in Tallarn Green," said Mrs Parry.
"A child had come to school with his lunch wrapped in newspaper and on the paper was written a report that Fred and Arthur had been killed in action. The teacher spotted it and passed the news on to the family.
"I am not sure if the story is true - my mum seemed to think so - but if it is, then what a tragic way to find out.
"Apparently the family didn't talk about them a lot after they died - obviously it was just too painful."
The oldest brother, Syd, never made it to Mametz.
After suffering a breakdown in the trenches at Laventie, he had been sent back to Britain two months earlier and was discharged from the Army on 5 September 1916, deemed medically unfit for service.
Syd lived another 40 years after his return. He may have survived the fighting, but back home, he did not thrive.
"He didn't work again after the war," said Mrs Parry.
"He was too ill. He lived with his parents and when they died, he lived with his sister Elsie.
"My grandfather Norman, who also served later in the war, was the only one of the five children to marry and have his own family.
"We could have had quite a big family on that side with all those brothers."
"I do feel Sydney's fate was worse in many ways," added Claire Lewis, who researched the Phillips brothers' story for the Flintshire War Memorials group.
"The shell shock, the guilt that he came home and his brothers didn't - his brothers were heroes but he wasn't deemed a hero, even though he did his bit.
"His suffering won't be remembered on any monument anywhere and it's important for me that his story is remembered too."
---
In the days after the battle for Mametz Wood, as hopes were no doubt fading for the Phillips brothers in Horseman's Green, just over 40 miles away in Ffynnongroyw, Flintshire, another family was anxiously awaiting news of their own son and brother.
The Blackwells ran a grocery shop in this small but bustling mining community.
There were four children in the family - two girls and two boys. The boys worked in the shop until the youngest - Peter - joined up at Holywell in February 1915, aged 21.
He enlisted in the 14th Battalion, Royal Welsh Fusiliers, and travelled to France the same day as the Phillips brothers.
He fought alongside them at Mametz Wood too - by then he was a corporal - and like them, he never made it home.
"Peter was my taid's younger brother," said Emily Williams, who grew up in nearby Penyffordd, but now lives in Bristol.
"My grandfather himself didn't go to war because he had one leg shorter than the other but Peter went.
"We didn't really know much about him - my taid would just say that he had a brother who was killed in the First World War and then he'd just go into floods of tears."
News of Peter's death did not reach his family for more than a month.
The local paper, the Prestatyn Weekly, reported on 12 August 1916 that there were "perplexing rumours" about him "since the big push" but "we hope for the best".
The following week, the rumours were confirmed - Cpl Blackwell had been killed in action on 10 July, aged 23.
Even now, 100 years on, the story of his death stirs up strong emotions.
"Against a heavily-armed crack division, they sent Emily's uncle, a shop worker," said Mrs Williams' husband Cliff.
"Those boys, thousands of them, were under instructions to make a suicidal charge on the woods.
"Until quite recently, Mametz Wood has been swept under the carpet as something to be ashamed of but on the contrary, it's something to be very, very proud of.
"I guess it was an adventure for them at the time."
"And thank God that's what they did think, that they didn't know what hell they were going to go through."
Like the Phillips brothers, Peter's body was never found. He too is remembered on the huge Thiepval memorial.
Last year, on the anniversary of his death, Mr and Mr Williams took their own children on a pilgrimage to Mametz Wood to pay tribute to the relative they have never met, but have never forgotten.
"It's the most emotional I've seen Emily," said Mr Williams. "I've been with her since she was 16 and I was 18 and I've never seen her like she was on that day."
"I went thinking, 'well my taid would have been proud'," added Mrs Williams.
"It was so quiet in those woods, just a few birds chirping away and you just stand there thinking, what was it like?
"All the noise, the screaming, the shouting - it must have been hell on earth."