Llangollen International Eisteddfod finds archive Pavarotti CD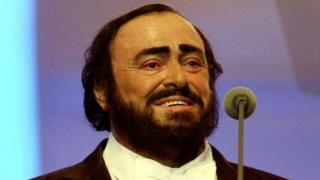 Archive recordings of the late tenor Luciano Pavarotti making his first appearance at Llangollen International Eisteddfod have been unearthed as the 70th anniversary event begins.
The opening concert for the festival is taking place on Tuesday night, with competitions set to start on Wednesday.
Pavarotti first appeared with a choir from his home town of Modena, Italy, in 1955, and won first prize.
He said the experience inspired him to launch his singing career.
One recording was from the 1955 performance when Pavarotti came with the Chorus Rossini aged 19 and a trainee teacher.
The choir, which included his father Fernando, went home as the overall winning choir.
Another recording is from an interview given by Pavarotti four decades later talking about the impact the experience had on him.
Speaking of the experience, Pavarotti said: "I always say that to the journalists when they ask me what is a day more memorable in my life, and I always say that it is when I won this competition because it was with all my friends."
Sara Eager, who was a schoolgirl volunteer in Llangollen when Pavarotti made his return trip to the festival in 1995, said of the 1955 recording: "It was among a pile of things in a tray and written on it was Pavarotti 1955.
"I didn't know what to think and didn't want to get too excited but it seems to be the real thing.
"It had been produced by the Welsh Development Agency in 1991 with material from the BBC and from 1955.
"Back then all the performances were recorded and put on vinyl so it could have been re-recorded from that as part of the build-up to Pavarotti's 1995 return to Llangollen.
"There are three tracks on it, one a recording of a Pavarotti press conference from 1991 when he's asked by a BBC Wales reporter about Llangollen and two songs by the Chorus Rossini from 1955 - they're not very long and they're a bit crackly but these must be incredibly rare recordings and quite historic.
"We have already made copies of them but it would be interesting to hear from anyone who has the original vinyl from 1955."
As well as the opening concert on Tuesday, a special ceremony will be held on the site of the first-ever eisteddfod in 1947, on the Ysgol Dinas Bran grounds.
The eisteddfod patron Terry Waite will unveil a Welsh slate and stone plinth, and some of the original attendees from the first festival will be present.
On Monday, the festival director raised concerns about visa restrictions which could mean some competitors will miss out on this year's event.