Dee Estuary cockle beds to open on time with restrictions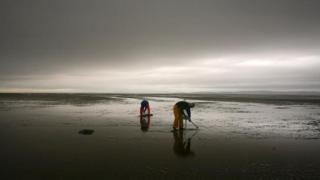 Cockle beds on the Dee Estuary in Flintshire will open on the usual date this year after being opened later and for a limited time in 2015.
Natural Resources Wales (NRW) said the beds would open on 1 July.
This follows the introduction of a licensing system, limiting the number of people who can gather them in order to preserve numbers.
Last year, beds opened more than 10 weeks late once young cockles began to appear.
That means there is now a large number of small cockles that can be picked.
NRW shellfisheries officer Rick Prichard said: "We are striking the right balance, ensuring enough cockles for the industry, for the estuary's important population of wading birds and to regenerate the beds for future years."
In a bid to tackle the "boom and bust" cycle, which NRW said saw high beds cleared out in weeks by hundreds of cocklers, the licensing system means there are now only 53 people allowed to pick them.
There are also restrictions on what equipment can be used, the hours cockling can take place and a daily harvesting quota.
In June, Swansea council said it would close a cockle bed after "higher than normal" E. coli levels were found in samples.