11 members of 'underworld' Wrexham crime gang sentenced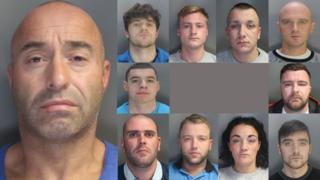 An organised crime gang which terrorised people in Wrexham has been sentenced.
Mold Crown Court heard the 11 members had admitted a string of charges including supplying drugs, handling firearms and handling stolen goods.
The gang's ringleader William Smith, 44, of Wrexham, was sentenced to 14 years in prison.
Judge Geraint Walters said they "formed part of an underworld that operated beneath the radar".
He said: "This team was prepared to inflict serious damage on both property and also to inflict serious bodily harm... they were prepared to inflict serious violence with the use of weapons."
"This team presented a serious threat to law and order in the area in which they operated," he added.
Det Insp Arwyn Jones of North Wales Police said: "This has been a protracted, complex and sometimes distressing investigation into the activities of an organised crime group and the violence, fear and misery they have inflicted.
"This criminal gang contained a number of violent individuals who would use and threaten violence as part of their criminality."
Sentences:
William "Billy" Smith (ringleader), 44, of Wrexham: 14 years for handling a stolen shotgun, possessing a weapon, conspiring to commit damage to property, conspiring to supply cocaine and cannabis, conspiring to inflict GBH with intent and possessing a knuckleduster on arrest
Ronnie Williams, 23, of Wrexham: Seven years for handling a stolen shotgun, conspiring to commit damage, possessing a shotgun and a sawn-off shotgun
Harry Williams, 21, of Rhos: Five years for handling a shotgun, possessing a sawn-off shotgun
Patryk Dziewiatkowski, 21, of Wrexham: 10 years for conspiring to commit arson and damage, conspiring to supply drugs and inflict GBH, and possessing an extendable baton on arrest
Trevor David Jones, 32, of Ponciau: Eight years for conspiring to commit arson and damage, conspiring to inflict GBH
Andrew Owen, 31, of Rhos: 18 months for conspiring to commit damage
Ricky Lee Jones, 26, of Penycae: Two years for conspiring to commit damage
Natalie Edwards, 34, of Wrexham: Two years for conspiring to supply drugs
Nathan Richards, 26, of Ponciau: Four years for being concerned in the supply of cocaine
Jack Pritchard, 24, of Bradley: 12 months (suspended for two years) for being concerned in an offer to supply cocaine
Daniel Michael Goodwin, 24, of Chirk: Two years for transferring ammunition to a prohibited person