Staff 'lacked knowledge' before dementia patient's death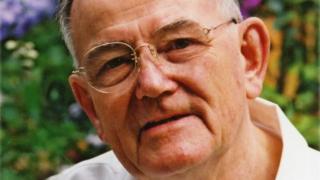 Inadequate policies and procedures as well as staffing issues probably contributed to the death of a dementia patient, an inquest has found.
Gwilym Lumley, 88, died after falling and hitting his head at the Heddfan Unit of Wrexham Maelor Hospital in 2014.
A health worker told the inquest in Ruthin, Denbighshire, his case could have been handled better.
The inquest jury recorded a conclusion of accidental death.
Lisa Gallagher, from Betsi Cadwaladr health board, said "our adherence to processes could've been much better".
Mr Lumley suffered a "significant" head injury in the incident involving another patient who was "sensitive" to people invading his personal body space.
He later died of bronchial pneumonia.
The inquest heard previously there were problems with staff filling out documents, which led to confusion over how Mr Lumley would be funded if discharged to a care home.
His family said they identified a suitable care home weeks before his death, but lost the place because of the funding concerns.
However, the inquest heard on Wednesday Mr Lumley would have been automatically guaranteed funding, because he had been sectioned under the Mental Health Act.
Ms Gallagher, the board's operational manager for older people's services in north east Wales, said: "With hindsight the funding should've been a 117 aftercare funding with the onus of the bigger portion to be funded by health.... any patients under section three of the Mental Health Act is entitled to 117 aftercare.
"The knowledge of the staff regarding the funding was lacking."
The inquest jury was told there were "significant staffing issues at the time" but the levels were safe and a number of improvements had been made since Mr Lumley's death.
Mr Lumley's son, Richard, said he and his family were never told of the confusion over the forms.
Coroner John Gittins said he would give the health board six months to demonstrate that improvements are being implemented.
If not, a report highlighting his recommendations would be issued to prevent future deaths, he said.
After the inquest, Vicky Morris, interim executive director of nursing and midwifery, said: "We offer our sincere condolences to Mr Lumley's family for their loss.
"We fully accept the coroner's verdict of accidental death.
"We acknowledge that poor communication and documentation contributed to a delay in Mr Lumley's discharge to a community setting, and apologise unreservedly to his family for this."
The health board has since introduced changes to the way communication is handled on the ward, and it intends to consult with Mr Lumley's family on ways it can be improved further, she added.