Rhuddlan Castle in full bloom to raise money for hospice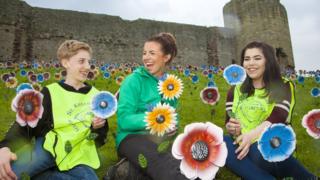 A Denbighshire castle has become home to a sea of colourful metal flowers.
The Flower Power Appeal 2016 at Rhuddlan Castle is reminiscent of the Tower of London poppies in 2014, and is raising money for St Kentigern Hospice in St Asaph.
The hospice is celebrating 21 years of caring for people with terminal illnesses, and fundraisers were keen to mark the occasion in an uplifting way.
They are also raising money for future care.
Each of the 1,000 metal flowers is being sold to individuals and families in memory of their loved ones as well as hospice supporters.