Dementia man fell and died after 'incident' with other patient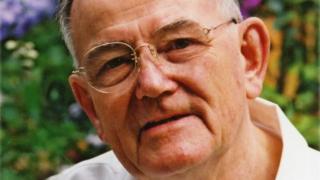 A dementia patient died after falling and hitting his head following an incident with another patient on a psychiatric ward, an inquest has heard.
Gwilym Lumley, 88, had been sectioned and was being cared for at the Heddfan Unit at Wrexham's Maelor Hospital.
He was involved in an incident with another patient on the Gwanwyn ward, who was "sensitive" to people invading his personal body space.
He suffered a "significant" head injury and later died of bronchial pneumonia.
The inquest heard he was sometimes aggressive because of his illness.
Witnesses saw Mr Lumley holding on to the patient's arm, the inquest was told, and the other patient then swung his arm and Mr Lumley fell to the floor with a "loud thud", losing consciousness.
He had injuries to his face and head and was taken to A&E but no scans or X-rays were done, and he later returned to the ward.
The following day he was in pain with his hip and an X-ray showed it had been fractured.
His condition deteriorated over the following days and he died on 16 November 2014.
Home Office pathologist Dr Brian Rodgers told the inquest Mr Lumley had suffered a "significant large bleed" in his head and there was bruising to the brain.
Dr Rodgers said that in his view, there was an "issue" of why no CT scan or X-ray had been carried out but said: "Whether those would have influenced the outcome is impossible to say."
He added: "This was, in any way, an unsurvivable bleed."
Dr Rodgers said bronchial pneumonia was common among patients who had suffered significant head injuries.
The inquest also heard written evidence from doctors saying that the decision not to perform a scan complied with guidelines, and he met safe discharge criteria.
The inquest, expected to last three days, continues.