Holywell festival for walkers retraces Henry V's pilgrimage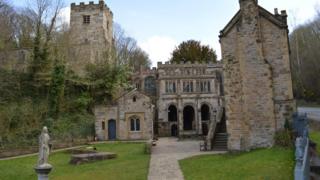 Walkers who have retraced King Henry V's pilgrimage steps are being welcomed back by a medieval celebration.
Henry V walked from Shrewsbury to Holywell in Flintshire in 1416, to give thanks for his famous victory over the French at Agincourt.
The walkers reached St Winefride's on Friday after setting off from Shrewsbury Abbey on 18 June.
A medieval festival will take place in the town on Saturday, which organisers said would put the area "on the map".
The festival will include a re-enactment of Henry V being immersed in the holy well.