Listed status would make Wrexham school "difficult" to demolish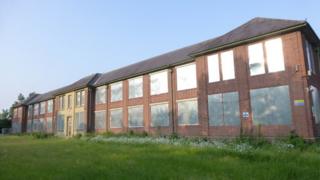 Campaigners fighting to save a run-down former school in Wrexham may have been handed a lifeline.
Wrexham council voted to demolish Groves High School in January - more than a decade after it closed.
But campaigners wrote to heritage body Cadw requesting the building be given special status, and a Grade II listing is now being considered.
If granted, a Welsh Government spokesman said it would make the building "difficult to be demolished".
The school closed in 2003 and has fallen into disrepair.
In its draft listing description, Cadw states the building is to be "listed for its special architectural interest on the grounds of its quality and character".
It is said to be a key example of an inter-war girl's grammar school in the neo-classical tradition which has survived largely intact.
Elaine Guntrip-Thomas, chairman of the Save Our Heritage campaign group, said she was delighted that Cadw has "recognised the importance that this building plays in defining the heritage of Wrexham".
The Welsh government's economy and infrastructure secretary, Ken Skates, said: "Following careful consideration of a spot listing request submitted to Cadw earlier this year, I feel that the former Grove Park School in Wrexham should be awarded Grade II listed status."
He is now consulting with Wrexham council and the Royal Commission on the Ancient and Historical Monuments of Wales before making any final decision.
Mr Skates added: "Any listing would regulate the demolition of the building through a process known as listed building consent."
Wrexham council wants to clear the site in preparation for a new school.
The leader, Councillor Mark Pritchard said they had been contacted by the Welsh Government to confirm it owns the former Groves school building.
He said: "We will respond and we will seek clarification about the listing and the listing process.
"Education on this site remains a priority for the council."