Rhyl sea rescue man was 'minutes from not surviving'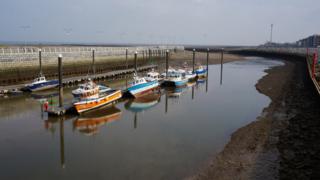 A man took a boat from a quiet harbour and sailed out to sea before panicking, letting off a flare and attempting to swim back to shore, the coastguard has said.
Rescuers said the 22-year-old had hypothermia and was "minutes from not surviving" after he went into the water off Rhyl on Tuesday morning.
He has been arrested on suspicion of stealing the boat.
The coastguard called his actions a "tremendous waste of time".
A call was made to Holyhead Coastguard at 05:45 BST, with controller Andy Carroll saying the man was spotted in the sea by people on the shore, who raised the alarm.
He had apparently panicked, set off a flare before trying to swim to shore wearing a life ring.
"If things had gone differently, we would have been looking for a body," Mr Carroll said.
"When the lifeboat got there, we believe he was minutes from not surviving. He said he had been in the water for a couple of hours."
The rescuers from the Rhyl Lifeboat Station were able to bring the boat back to shore.
A spokesman for North Wales Police confirmed the man had been arrested and said: "He's currently at the St Asaph police station drying out. He will be questioned later."