Love on the ocean wave for Rhyl coastguard couple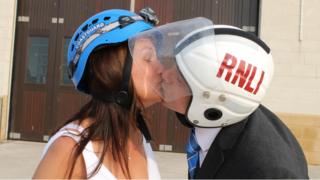 A coastguard volunteer and lifeboat crew member have come together over their shared love of sea rescue.
Rhyl coastguard team volunteer Andrea Keenan and her RNLI crew member husband Andy tied the knot at a secret ceremony and held their official celebrations at the weekend.
The couple were given a traditional marriage salute by their coastguard colleagues.
Andrea has been a volunteer with the coastguard for the past 15 years.
After helping her to respond to 999 calls, Andy joined the Rhyl RNLI volunteer crew.
Now both frequently help rescue people in difficulty off the north Wales coast.
Coxswain Martin Jones of Rhyl lifeboat said: "Both the coastguards and the lifeboat crew are very proud of the happy couple, and wish Andrea and Andy all the best in their future life together".