Parking chaos at Talacre Beach sparks fears over safety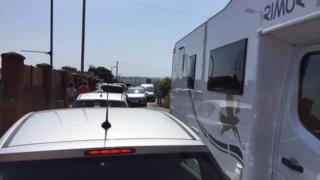 Parking chaos at a Flintshire beach is preventing emergency vehicle access and could lead to deaths, locals say.
Talacre Beach attracts hundreds of day-trippers whenever the sun shines but its parking spaces have been cut to protect natural species.
At the weekend, gridlock through the village saw police forced to intervene and the coastguard unable to access the beach.
Natural Resources Wales (NRW) said a long-term solution needs to be found.
On bank holiday Monday Flint and Rhyl coastguard had to call on North Wales Police to help amid reports of people fighting over parking spaces.
Officers closed off Station Road for two hours while they tried to clear the gridlock.
A Maritime and Coastguard Agency spokeswoman said: "Rescue teams were unable to access Talacre beach as a number of vehicles had blocked the entrance gate.
"We would urge members of the public that in future, the access gate to Talacre beach is kept free and unobstructed.
'Somebody will die'
"This is not only so that our rescue teams can carry out their routine patrols, but also so that emergency vehicles have quick and easy access in case of an incident or emergency."
Local business owner Lyndon Mulhearn said: "If something isn't done soon somebody will die.
"There's going to be an emergency and ambulances won't be able to get there in time."
Parking has been reduced in recent years after the dunes became a Site of Special Scientific Interest (SSSI) managed by NRW.
At busy times, traffic has been known to stretch for over a mile, causing gridlock as cars park illegally throughout the village and only single file traffic can get through.
The problem was compounded at the weekend because NRW did not open their half of the car park due to recent flooding.
The beach is vulnerable during high tides as on 8 May when more than 20 cars were submerged and NRW says it does not present a long-term solution.
'Miserable'
Mr Mulhearn, who has owned the Sandancer Amusements on Station Road for nearly 30 years and chairs the Talacre Business Group, said: "The people who make the decisions at the drop of a hat should be here to see the ill-feeling and upset it causes.
"On Monday people were fighting and it's not the first time I've seen it.
"It's such a beautiful part of the world but everybody suffers when it's like this.
"You see miserable people stuck in their cars with kids crying in the back or people arguing over parking spaces.
"We rely on repeat business but if people have a bad experience like this, they won't come back."
Councillor John Thompson said: "There's also a health and safety issue in the village because people are parking on yellow lines and on people's drives so the residents can't get in or out.
"They are basically trapped in their homes and I know people with elderly relatives there who get very panicky on days like this because if they are taken ill an ambulance wouldn't be able to get to them."
Nick Thomas, operations manager for NRW said they were keen to work with Flintshire council and locals to resolve the problem.
Steve Jones of Flintshire council said they were working on a solution and he hoped new car parks would be in place before the start of the school holidays in July.
He said: "The location of the resort and the protected nature of the surrounding area means that there will always be a limit on the number of parking spaces available for visitors.
"However the new arrangement will increase the number of spaces available, improve signage to the car parks and introduce on-street parking controls to prevent the indiscriminate parking, which creates access issues for both visitors and local residents."