Singer Mike Peters performs at Urdd's opening concert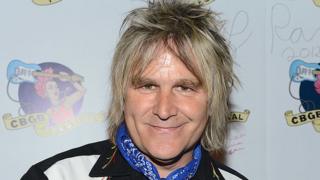 One of Europe's biggest youth festivals - the Urdd Eisteddfod - begins on Sunday with an opening concert in Flintshire.
Singer Mike Peters, frontman of the Alarm, will perform at the Welsh cultural festival based at Flint High School following a US tour.
He will be joined by local groups and performers like Britain's Got Talent finalists, singers Richard and Adam.
Peters said he was "delighted" to be performing at the opening ceremony.
"The icing on the cake is that my sons, Dylan and Evan will both be in attendance.
"They both love singing, playing the guitar and piano and Dylan will be competing with Ysgol Glan Clwyd in the Eisteddfod so it will be a real family affair."
Broadway performer Mark Evans has flown home from New York for the Eisteddfod.
Festival director Aled Sion said: "It's great that so many stars from the area will be performing in this spectacular opening concert."