Derelict Denbigh hospital auction fails to met £2.25m price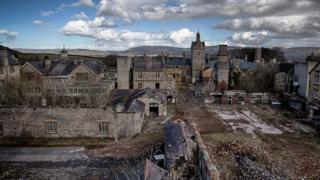 A former Victorian asylum in Denbighshire failed to sell at auction after its £2.25m reserve price was not met.
North Wales Hospital in Denbigh is being sold as a long-running row about its future continues.
It is described as having potential for up to 20 acres of residential development land.
Denbighshire council has been due to compulsory purchase the building after taking legal action against the owners.
Freemont (Denbigh) Ltd still has the right to try to sell the site as it has not been transferred into the ownership of the council.
Over 1,000 staff were employed within the hospital before it fell into disrepair and closed in 1995.
A council spokesman said it would need to negotiate with the new owner if it was sold before the compulsory purchase is confirmed.
The auction was conducted by Allsops auctioneers in London on Thursday.