Heddfan psychiatric unit patient's death 'misadventure'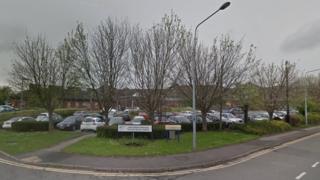 A patient killed herself at a psychiatric unit in Wrexham through misadventure, an inquest has concluded.
Danielle Robinson, 21, was admitted to the Heddfan psychiatric unit at Wrexham Maelor Hospital in September 2014.
Two months later, the "troubled young woman" was found with a torn bedsheet around her neck soon after calling her father saying she was hearing voices telling her to do terrible things.
The Ruthin inquest heard she died on 16 November, three days after being found.
The hearing was previously told Miss Robinson, who worked as a cafe assistant, had a history of self-harm and was sectioned under the Mental Health Act in September 2014.
A consultant said, with hindsight, Miss Robinson should have been under a higher level of observation.
Defusing volatile situations
Her father Clive Robinson, of Flint, said he felt let down by the health profession.
After the jury had returned its conclusion, North Wales East and Central coroner John Gittins said he would be writing to the health board.
He said he wanted to ensure staff were trained in the new observation policy and that staff be encouraged to adopt a "one-to-one, arms-length" session to defuse volatile situations.
"There should be something simple for staff to follow at a time of serious incidents - a one-to-one engagement which may well be a means by which future deaths could be prevented," he said.
Dr Mark Walker, Betsi Cadwaladr University Board's interim executive medical director, said: "We offer our sincere condolences to Danielle's family and fully accept today's findings.
"The health board has completed a serious incident review and is working to implement changes and improvements."