Father 'let down' over daughter's Wrexham hospital death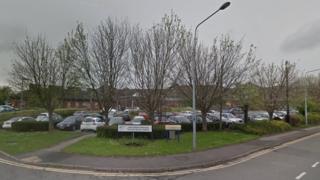 The father of a "troubled woman" who died in hospital has told an inquest he felt let down by the health profession.
Danielle Robinson, 21, was a patient at the Heddfan psychiatric unit at Wrexham Maelor Hospital when she was found hanged in 2014.
Clive Robinson, of Flint, said: "I gave the professionals the most precious thing in my life and they let me down."
A consultant said, with hindsight, Miss Robinson should have been under a higher level of observation.
An inquest in Ruthin heard on Tuesday, Miss Robinson, who worked as a cafe assistant, had a history of self-harm and was sectioned under the Mental Health Act in September 2014.
She was described by coroner John Gittins as being a "troubled young woman."
Miss Robinson had complained of bullying at work, of being sexually assaulted and of being in an abusive relationship.
On 11 November 2014, she called her father saying she was hearing voices telling her to do terrible things.
Mr Robinson immediately called the nurses on the ward, but within a few minutes Miss Robinson was found hanged.
She died three days later, having never regained consciousness.
Mr Robinson said: "I thought, at least she would be safe, but unfortunately that was not the case."
The inquest also heard Miss Robinson was subject to the lowest level of observation, with checks carried out every three hours.
Consultant psychiatrist Dr Martin Jones said she should have been under a higher level.
The inquest continues.