Denbighshire care home transfer plans agreed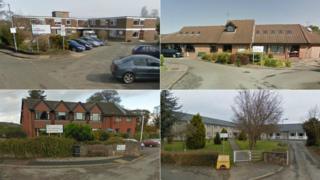 Some council-run care homes in Denbighshire look set to be transferred to external operators.
The council's cabinet said a day-care centre in Rhyl and a Denbigh residential home will be offered to third parties.
Plans for a Ruthin home could see extra apartments built in partnership with a private owner, while a centre in Corwen is being earmarked as a "support hub".
The authority said the measures could save £350,000 a year in care costs.
The decisions follow a public consultation over four homes that ended in January.
The homes under scrutiny have been Rhyl's Hafan Deg day centre, Dolwen residential home in Denbigh, the Awelon home in Ruthin and the Cysgod y Gaer site in Corwen.
A report to the cabinet said it was "clear that care and support services for older people in Denbighshire will be better, and more sustainable, if all the preferred options are implemented".
Bobby Feeley, cabinet member for social care, added: "We recognise that this has been an emotive issue for many, but we firmly believe we are doing the right thing.
"We will now progress with the agreed options and we can assure the public that the health and well-being of our residents will continue to remain at the heart of what we do."
Decisions in full
Hafan Deg, Rhyl: "The council explores a potential partnership with an external organisation with a view to transferring the building to them, commissioning a day care service within the building and, in addition, enabling third-sector agencies to provide early intervention activities for older people that reduce social isolation, support independence and promote resilience."
Dolwen, Denbigh: "The council explores a potential partnership with an external organisation with a view to transferring the building and the whole service to them, whilst ensuring that Dolwen is registered to provide elderly mental health day and residential care."
Awelon, Ruthin: "The council explores in detail the three options put forward in relation to this establishment and that the work in relation to these options include comparative costs, quality of care and Welsh language provision analysis between the current service and each of the three options."
Cysgod y Gaer, Corwen: "The council explores entering into a partnership with relevant stakeholders to develop the site into a support hub offering both residential and extra care type facilities as well as an outreach domiciliary care and support service to the tenants of local sheltered housing schemes and the wider population of Corwen and the surrounding area."