Submerged cars at Talacre Beach: Firm 'not at fault'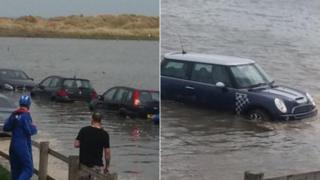 The firm which controls access to a Flintshire beach where more than 20 cars were submerged by a high tide said it was not at fault.
The Talacre Beach car park is normally closed before a high spring tide.
But a gate was left unlocked on Sunday 8 May when a 9m (29.5ft) high tide peaked.
Oil Company ENI said an internal investigation found its staff did not leave the gate open or instruct anyone to leave it open.
The site is privately owned by ENI with public access and signs warning "parking is at owner's risk".
Investigation
Had the gate been shut, drivers would have been aware of the warning.
The sea water later receded and some vehicles had to be towed away after their engines flooded.
A spokeswoman said its internal investigation "concluded that neither ENI Liverpool Bay Operating Company nor its staff left the barrier open during the high tide event on 8 May and neither ELBOC nor its staff gave instruction or permission for the barrier to be left open during the high tide event on 8 May".
A Flintshire council investigation into the incident is ongoing.
The beach is still closed to the public.