RNLI set to launch new lifeguard service in north Wales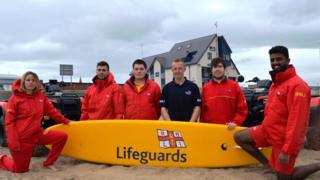 A new RNLI lifeguard service is set to launch in Denbighshire and Flintshire.
Working with Denbighshire council, newly-trained lifeguards will patrol Rhyl and Prestatyn beaches daily between 10:00 and 18:00 BST.
RNLI lifeguards assisted more than 900 people on 32 Welsh beaches in 2015, and the charity has extended its safety service to 39 beaches this year.
They include four in Bridgend, as well as working with the National Trust on Three Cliffs Bay in Swansea.
Peter Rooney, north Wales lifeguard manager said: "The RNLI lifeguards have now all completed their training and are looking forward for the start of the new safety service."