Denbighshire research maps 'legal highs' impact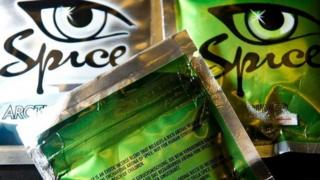 New research to map the impact of so-called legal highs has been launched in Denbighshire - believed to be the first of its kind in Wales.
A new law comes into force on 26 May, banning the supply of drugs which have a direct effect on mental processes.
The chemical make-up of the drugs is not consistent and the Coms study aims to understand the impact on people's lives to improve the help on offer.
It is hoped it will ultimately contribute to academic work.
Cais chief executive Clive Wolfendale said anybody using the drugs was a "human guinea pig".
"The real problem with these substances is nobody knows what's in the packet and often they can be incredibly strong," he told BBC Radio Wales' Good Morning Wales programme.
"These are really, really harmful things and of course nobody's got a clue what's in there; in effect anybody who uses a new substance is a human guinea pig."