Wrexham murder probe police search property in Gobowen, Shropshire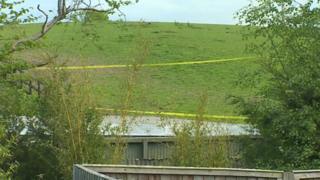 Police have carried out searches in Wrexham and Shropshire for evidence linked to a historical murder in which they are attempting to find the remains of an unidentified man.
Supt Sian Beck, from North Wales Police, said no arrests have been made.
But she said some items found at a property in Gobowen, Shropshire, on Wednesday needed further investigation.
Other searches have taken place in recent days in Wrexham and Gobowen.
Supt Beck said: "This morning detectives executed a search warrant in Gobowen for evidence in relation to an on-going murder investigation.
"This action follows a number of searches conducted over the last few days in the Wrexham and Gobowen area, and is believed to be linked to a historic murder.
"If anyone has any information to assist I'd ask they make contact with us."