Flintshire council funds £7m affordable homes scheme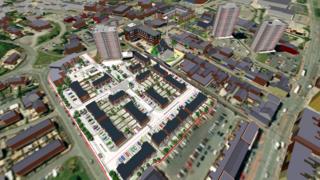 A £7.4m affordable housing scheme providing 60 new homes has been agreed for Flint.
The project, funded by a loan from Flintshire council, is part of a plan to build 300 affordable homes across the county by 2020.
Work on the properties will start later this year.
They will be built on the site of demolished council maisonettes at The Walks, in Flint town centre.
The council is selling the land for £187,000 to NEW Homes (North East Wales Homes).
Flintshire County Council leader, Aaron Shotton, said: "NEW Homes does not currently have enough credit history to borrow directly to fund The Walks scheme independently without a council guarantee.
"After also considering a number of private sector leasing options, the board agreed that council borrowing was their preferred route."
NEW Homes was set up by the council in April 2014 to build new homes for the county.