Row breaks out over rights to use Llangollen's river Dee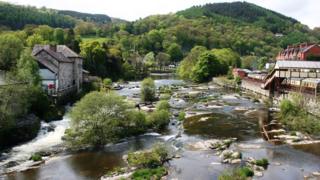 A row has broken out between anglers and canoeists over the rights to a stretch of the River Dee in Llangollen.
The Dee valley fishing syndicate claim adventure sports companies are "riding roughshod over their waters".
They are erecting barriers at both ends of the 700-yard section between Mile End Mill and the town centre's Railway Bridge.
But canoeists say this is "extremely dangerous" and have urged anglers to instead "enter discussions".
The issue is part of a long-running dispute between Llangollen anglers and canoeists over the river, home to some of the UK's finest white water rapids.
'Serious legal proceedings'
In a letter to local water sports companies, the syndicate say the waters are private and legally off limits to canoeists and kayakers.
They claim there is "no prior agreement" for kayaks, rafts and canoes to use the stretch - and that they "could face serious legal proceedings," if they enter the waters.
The BBC understands the disputed area of riverbank is owned by the White Waters Hotel and rented by the syndicate.
In 2012, the Welsh Dee Partnership Limited (WDP) helped broker a settlement between canoeists and anglers.
WDP chairman Huw Evans said he had "no comment" to make about the row.
'Used for many years'
Josh O'Brien of Llangollen Outdoors, employs four full-time members of staff and 15 freelance instructors.
He said: "The River Dee has been used commercially and recreationally for rafting, canoeing and kayaking for many years.
"There is an agreement put in place for commercial users via the Welsh Dee Partnership, an organisation supported by the SPLASH Fund, Natural Resources Wales, Denbighshire County Council, and the Wye and Usk Foundation.
"We are awaiting their response on the matter.
"Erecting barriers across a river that is used by so many river users is extremely dangerous and we would advise the landowners against this. Instead we would like the opportunity to enter into discussions."
'Hard-won'
Peter Carol, who runs ProAdventure outdoor shop in Llangollen, described the 2012 agreement as "hard-won" and added: "Water sports are a big part of the economy of the town."
A Dee valley fishing syndicate spokesman said: "They've been riding rough shod over our waters.
"Two years ago, there were a very small number of canoeists on this stretch of water.
"Now there are five companies using this water, and it's totally unfishable. It's a really sad situation."
Sgt Rob Taylor, from North Wales Police rural crime unit, said: "We are aware of this issue. We are currently unclear what the legal situation is."