Illegal caravan use clampdown launched in Denbighshire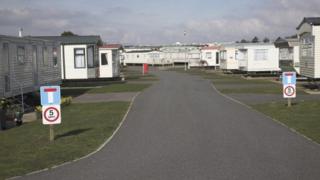 A campaign is being launched in Denbighshire to stop caravans being used illegally as permanent homes on holiday sites.
The clampdown follows concerns some site owners are breaching planning regulations by letting people occupy their vans all year.
Previously, the council said it costs the local authority almost £300,000 a year.
It has now agreed to carry out a systematic audit of all caravan sites.
There are about 6,000 static pitches and 900 touring pitches in the county.
A report to the council's scrutiny committee said the campaign would initially focus on five sites that were part of a study in 2015.
It will include issuing warning letters and taking action against park owners who flout regulations.
"It is evident that the work done to date has begun to change the way certain holiday caravan sites promote and sell caravans to customers," the report said.
"Site owners are keen to work with the council to promote best practice and challenge how people use holiday caravans on their sites."
A council spokesman said officers have been asked to give a progress report within a year.