£15m Denbighshire school plans take step forward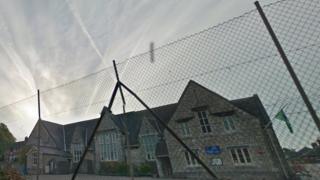 Plans to build two new £15m school buildings to house merged sites in Denbighshire have won council backing.
One project costing £10.5m will provide a new home for Ysgol Pen Barras and Rhos Street School in Ruthin.
A second £5m scheme will see Ysgol Carreg Emlyn housed on a single site, following the merger of Clocaenog and Cyffylliog two years ago.
The business case for both developments must now be approved by the Welsh Government.
"The council is committed to providing fit for purpose education facilities for our children and young people and we are delighted to support these business cases," said Eryl Williams, cabinet lead for education.
The council said it expected a final decision on the business plans later in May.
A third business case for a new area school for the Llanfair and Pentrecelyn areas of Denbighshire will also be considered in the next few months.