Bid to save Gronant little tern chicks from kestrels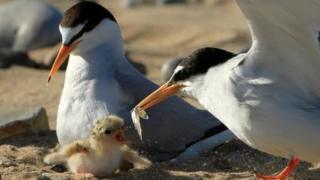 Conservationists hope a new project in Denbighshire will help save rare little tern chicks from being eaten by birds of prey.
Areas of Gronant, near Prestatyn, are the only little tern breeding site in Wales.
Last year, kestrels killed 33 chicks and eight fledglings there.
This year volunteers funded by the Welsh Ornithological Society will supply food to the kestrels in a bid to divert them from the terns.
"We have decided to begin diversionary feeding because success scaring away kestrels using starter pistols, air horns and whistles is very limited," said Jack Slattery, the Gronant engagement officer.
"We enjoy seeing kestrels, but they are a huge threat to little terns. We hope this project will help both species flourish."
Work is also under way to build protective fences on the dunes as the breeding season for the terns begins.
Denbighshire council officials said new volunteers would be welcome over the next three days to come and help.