Wrexham 'super-prison': Focus on rehabilitation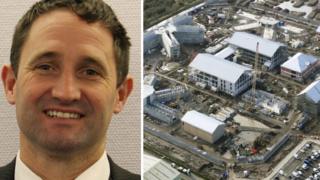 The governor of Wrexham's new "super-prison" said the rehabilitation of inmates will be its main priority when it opens next year.
Russ Trent also he could understand if some people had "reservations" about HMP Berwyn being built on Wrexham Industrial Estate.
The £250m complex will house 2,000 inmates and is due to open in February.
Mr Trent told Wrexham council's Connect magazine he wanted the community to be involved in its development.
He said: "If we don't have rehabilitation as our primary purpose and work carefully with every man who comes here as an individual, helping him to deal with the problems that have brought him into the criminal justice system in the first place, then we shouldn't be surprised if he goes on to reoffend.
'Support the town'
"We have spent a lot of time working with psychologists and academics to make sure that what we have planned is likely to contribute towards this rehabilitative culture."
He said prisoners would eventually will be "returning to the community so it makes sense for that community to be involved in what we do".
"I know there have been reservations about having a prison in Wrexham and I completely understand why that might be," he said.
"If I can pick up on issues people have that I can do something about, then I want to hear them.
"I want to be part of Wrexham, support the town and people and play a big part in what goes on here."