Queensferry traders 'in dark' over roadworks delay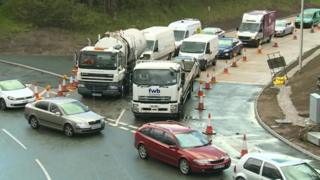 Traders in Flintshire have said they are being kept in the dark about a delay to roadworks which are affecting their businesses.
The work to tackle congestion in Queensferry was due to end last week but will now last another month.
Business owners said they have had little communication from the council about the delay.
The council apologised for the disruption and said it was holding a public meeting on Thursday.
The work focuses on adding lanes around Queensferry roundabout, widening the A494 slip roads and changes at the box junction near Asda supermarket.
But Andre Potter whose store, Absolute Comfort Furniture, has been in the middle of the construction site for the last 12 weeks, said his business had been affected.
"This started in the first week of February and I would say that sales have dropped by about 70%," he said.
He added that plans to close Queensferry roundabout in May would mean more bad news.
"It will stop any traffic being able to come into my property," he said.
Gary Owen, who runs Queensferry Sports, said: "We have had a chap in this morning. He lives a mile down the road and it's taken him 25 minutes to get here.
"And he said it's an effort for people to get to Queensferry at the moment because of these road works. It puts people off."
Flintshire council said it would hold a public meeting to give more information about the closure of the roundabout and alternative routes.
It said access to businesses and properties would be maintained as the roadworks were completed.