Gresford footballer released for Hillsborough tweet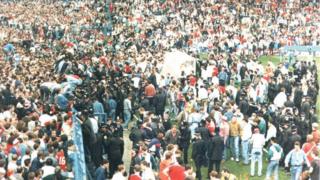 A Wrexham-based football club has "severed all ties" with a player over remarks made about the Hillsborough disaster on Twitter.
Jonny Taylor, 26, who played for Gresford Athletic, retweeted a comment about fans' behaviour which prompted a backlash. He later apologised.
The club said it did not condone any of the views expressed.
Jury inquests concluded that 96 fans were unlawfully killed at Sheffield Wednesday's stadium on 15 April 1989.
The jury found fans did not contribute to the danger unfolding at the turnstiles at the Leppings Lane end of the ground during the FA Cup semi-final tie between Liverpool and Nottingham Forest.
Huws Gray Alliance league side Gresford said: "We do not in any way condone any of the views expressed by this individual and most definitely do not support them.
"We are a family club with exceptionally good values and wish to take this opportunity to distance ourselves from the offensive comments made by this individual.
"Finally, we offer our continued condolences to the families and friends of those who lost loved ones at Hillsborough."
Hillsborough: No closure for survivor
Hillsborough: From tragedy to truth
Families and players react to conclusions
Lawyers acting on behalf of the victims' families said the conclusions "completely vindicated" their 27-year battle for the truth.
Jurors found police failures before and during the match led to the fatal crush.
Two criminal investigations into the disaster and its aftermath are ongoing and could finish by the end of 2016.