Care services risk in Flintshire under spotlight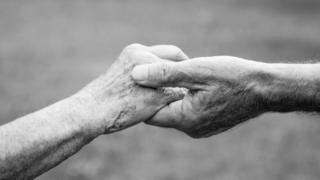 Fears for care services across Flintshire have been raised with a warning of a "critical" risk to provision in coming years.
A report said the county's older population is set to rocket - with the number of residents over 80 rising by 23% in just four years.
Officials say the present council care services and the private sector may not be able to cope.
They have called for a post to be created examining the issues.
In the report to the council being considered on Friday, the county's head of social services said the care sector across Wales and England is "fragile".
"Real concerns are being raised across the country about the ongoing viability of the sector," warned Neil Ayling.
"During this period there is a clear and ever present risk that the care sector will be unable to sustain itself if no action is taken."
The report says the introduction of the £7.20-an-hour living wage, changes to employer pension schemes, and changes to work-home travel legislation means some care businesses are going bust.
"In Flintshire there is a growing inability to recruit and retain staff within the care sector," added the report's author.
"The pressures on the system are causing businesses to fail across the UK resulting in insufficient available bed and domiciliary care packages to meet the needs of residents."
The council said it had been in discussions with independent care providers across the county for the last six months, in a bid to get a better picture of the challenges they face.
A £647,000 payment from council reserves has been secured to meet increases in private care sector fees - but only for one year.
The report, which is being considered by one of the council's social services scrutiny committees, concluded that a new short-term post should be created "to create and implement innovative" solutions for the care sector in Flintshire.